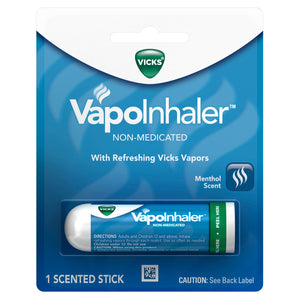 Olympia Plaza Gifts
VICKS® VapoInhaler™ Non-Medicated Menthol Decongestant
Regular price
$7.99
$0.00
VICKS VapoInhaler provides soothing Vicks Vapors for on the go usage.
Camphor, Menthol, Methyl Salicylate, Siberian Fir (Abies sibirica) Oil.
CAUTION: When using this product: (o) Temporary burning, stinging, sneezing or increased nasal discharge may occur. (o) Use of this inhaler by more than one person may spread infection. (o) If pregnant or breast-feeding, ask a health care professional before use. Keep out of reach of children. Do not use Vicks VapoInhaler if you are allergic to any of its ingredients.
Adults and Children 12 and above: Inhale refreshing vapors through each nostril. Use as often as needed. Children under 12 do not use.
---
More from this collection