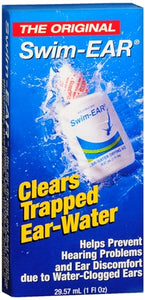 Olympia Plaza Gifts
Swim-EAR Drying Aid 1 oz
Regular price
$5.99
$0.00
The original.

Purpose Drying Aid

Manufacturer Fougera

Active Ingredients Isopropyl Alcohol 95%
Directions Apply 4 or 5 drops in each affected ear.
Inactive Ingredients Anhydrous Glycerin 5% Base
Uses Dries water in the ears and relieves water-clogged ears, thereby relieving discomfort, the sensation of fullness or hearing impairment. Swim-EAR…the ear drying aid that clears trapped ear-water due to bathing, showering, swimming, hair washing, jacuzzi, etc. The brand used by swim teams for generations.


---
More from this collection