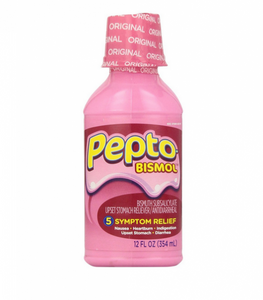 Olympia Plaza Gifts
Pepto-Bismol Liquid Original (1 Pack)
Regular price
$10.99
$0.00
Think pink. Think Pepto-Bismol.

Purpose Upset Stomach Reliever, Antidiarrheal

Manufacturer P & G-Health

Active Ingredients In Each 15 mL Tablespoon: Bismuth Subsalicylate 262 mg
Directions Shake well before use. For accurate dosing, use dose cup. Adults and children 12 years and over: 1 dose (2 Tbsp or 30 mL) every 1/2 to 1 hour as needed. Do not exceed 8 doses (16 Tbsp or 240 mL) in 24 hours. Use until diarrhea stops but not more than 2 days. Children under 12 years: ask a doctor. Drink plenty of clear fluids to help prevent dehydration caused by diarrhea. Protect from freezing. Avoid excessive heat (over 104 degrees F or 40 degrees C).

Inactive Ingredients Benzoic Acid; Flavor; Magnesium Aluminum Silicate; Methylcellulose; Red 22; Red 28; Saccharin Sodium; Salicylic Acid; Sodium Salicylate; Sorbic Acid; Water; Each Tbsp Contains: Sodium 6 mg; Salicylate 130 mg

Uses Relieves: travelers' diarrhea, diarrhea, upset stomach due to overindulgence in food and drink, including: heartburn, indigestion, nausea, gas, belching. Low sodium. Sugar free.
---
More from this collection