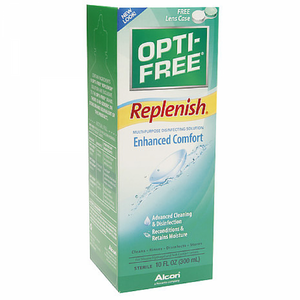 Olympia Plaza Gifts
OPTI-FREE RepleniSH Multi-Purpose Disinfecting Solution 10 oz
Regular price
$16.99
$0.00
Get more mileage out of your lenses.

Purpose Eye Care

Manufacturer Alcon

Active Ingredients Sodium Citrate; Sodium Chloride; Sodium Borate; Propylene Glycol; Tearglyde (Tetronic 1304; Nonanoyl Ethylenediaminetriacetic Acid) ; Polyquad (Polyquaternium-1); Aldox (Myristamidopropyl Dimethylamine)
Directions To clean, recondition, disinfect and remove protein from your contact lenses: Thoroughly rinse each side of the lens (5 seconds) with solution Fill your lens case with fresh solution. Store lenses in the closed lens case overnight or at least 6 hours. After soaking, lenses are ready to wear. Storage: You may leave your lenses in the unopened lens case for up to 30 days. After use, always empty and rinse the lens case with fresh solution and allow to air dry. Always follow your eye care professional's instructions. If your eye care professional directs you to rub your lenses, place several drops on the lens and rub for several seconds. Then follow the directions above. Store at room temperature and upright.
Uses For silicone hydrogel and soft contact lenses. Reconditions lenses to retain surface moisture for enhanced comfort. Removes protein daily. No rub. Cleans, reconditions, rinses, disinfects, stores. Promotes comfort and clear vision. Reduces appearance of redness. Kills bacteria (germs) that can cause eye infections.
---
More from this collection