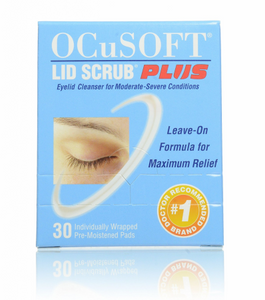 Olympia Plaza Gifts
OCuSOFT Plus Eyelid Cleanser Pads 30 Each
Regular price
$34.99
$0.00
Eyelid Cleanser

Manufacturer Ocusoft Inc

Active Ingredients Water; Ringer's Solution; POE-80 Sorbitan Monolaurate; Methyl Gluceth-20; PEG-120 Methyl Glucose Dioleate; Decyl Polyglucoside; 1,2-Hexanediol and 1,2-Octanediol; Cocoamphodiacetate Disodium; D-Panthenol; Polyaminopropyl Biguanide (PHMB)

Directions First, wash and clean hands. Close the eye and gently cleanse lids using lateral side to side strokes. Rinse (or leave on if directed). Avoid touching the eye directly.

Uses Dry, scratchy, irritated eyes? The problem may not be your eyes but rather your eyelids. OCuSOFT Lid Scrub Formulas effectively remove excessive oil, debris and contaminants that can build up on your eyelids and cause irritation. Lid hygiene can be important to overall ocular health and is often recommended for individuals with dry eyes, blepharitis sufferers, or those preparing for surgery. OCuSOFT Lid Scrub Original Formula is recommended for chronic, mild-moderate conditions (routine daily lid hygiene) while OCuSOFT Lid Scrub Plus Formula is extra strength and indicated for moderate-severe conditions. Feel better, look better. Start using OCuSOFT Lid Scrub today! Contents: 30 individually wrapped pre-moistened pads. #1 doctor recommended eyelid cleanser.

Warnings For external use only. Remove contact lenses prior to use.
---
More from this collection