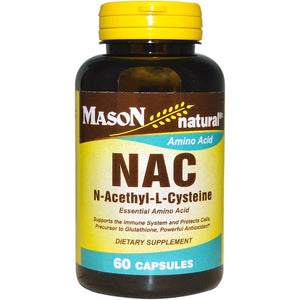 Olympia Plaza Gifts
Mason Natural, NAC N-Acethyl-L-Cysteine, 60 Capsules
Regular price
$15.99
$0.00
escription
Natural
Amino Acid
Essential Amino Acid
Supports the Immune System and Protects Cells
Precursor to Glutathione, Powerful Antioxidant
Dietary Supplement
Mason Guarantee - Laboratory Tested
Suggested Use
Adults, take one capsule daily as a dietary supplement.
Other Ingredients
Gelatin, cellulose, magnesium stearate, silica.
Allergen certification: May contains gluten.
Guaranteed no added: sugar, starch, wheat, corn, fish, shellfish, peanuts, tree nuts, soy, yeast, artificial flavors and colors, dairy, egg, fragrance and preservatives, sodium free.
Warnings
Foil - Tamper Resistant Seal - If printed heat induced seal appears to be tampered with, do not use product.
This product has been manufactured and repackaged in strict conformance with industry and government standards.
Keep out of the reach of children.
Store in a dry, controlled room environment.
---
More from this collection