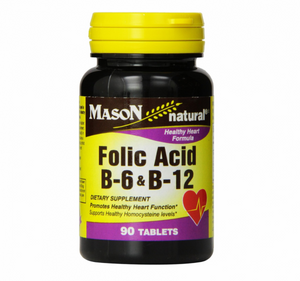 Olympia Plaza Gifts
Mason Natural Folic Acid, B-6 & B-12 Tablets 90 ea
Regular price
$7.99
$0.00
The vitamin marketing experts.

Purpose Dietary Supplement

Manufacturer Mason Vit

Active Ingredients Per Tablet: Vitamin B-12 100 mcg; Vitamin B-6 50 mg; Folic Acid 400 mcg; Calcium (Dicalcium Phosphate) 85 mg; Magnesium Stearate; Microcrystalline Cellulose; Stearic Acid

Directions Adults: 1 tablet daily as a dietary supplement. Adequate folate (folic acid) in healthful diets may reduce a woman's risk of having a child with a brain or spinal cord birth defect.Uses Promotes healthy heart function. Helps lower elevated homocysteine levels.
---
More from this collection