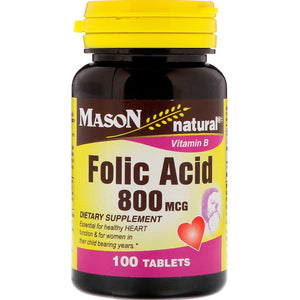 Olympia Plaza Gifts
Mason Natural, Folic Acid, 800 mcg, 100 Tablets
Regular price
$5.99
$0.00
Dietary Supplement
Vitamin B
Essential for Healthy Heart Function & for Women in Their Child Baring Years
Adequate folate (folic acid) in healthful diets may reduce a woman's risk of having a child with a brain or spinal cord birth defect.
Suggested Use
Adults only - one table daily, as a dietary supplement.
Other Ingredients
Leprino whey, microcrystalline cellulose, calcium carbonate, croscarmellose sodium, stearic acid, magnesium stearate and silica.
Guaranteed no added: Starch, yeast, soy, corn, wheat, egg, fragrance, artificial flavors and preservatives.
This product has been manufactured and packaged in strict conformance with industry and government standards.
Warnings
Foil - Tamper Resistant Seal. If printed heat induced seal appears to be tampered with, do not use product.
Keep out of the reach of children.
Store in a dry place under controlled room temperature 20°-25°C (68°-77°F).
---
More from this collection