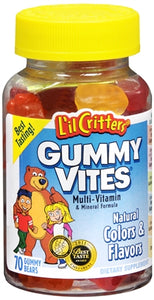 Olympia Plaza Gifts
L'il Critters Gummy Vites 70 Each
Regular price
$8.99
$0.00
The vitamins and minerals kids need.

Purpose Dietary Supplement

Manufacturer Nwest Nat

Active Ingredients 2 Gummy Bears: Calories 15; Total Carbohydrate 4 g (Sugars 3 g); Vitamin A (as Retinyl Palmitate) 2600 IU; Vitamin C (as Ascorbic Acid) 20 mg; Vitamin D (as Cholecalciferol) 240 IU; Vitamin E 16.5 IU; Vitamin B-6 1.04 mg; Folate 260 mcg; Vitamin B-12 5.1 mcg; Biotin 60 mcg; Pantothenic Acid 5.2 mg; Iodine 42 mcg; Zinc 2.7 mg; Choline 40 mcg; Inositol 40 mcg; Glucose Syrup (Corn); Sucrose; Gelatin; Citric Acid; Lactic Acid; Ascorbic Acid; dl-Alpha-Tocopheryl Acetate; Retinyl Palmitate; Zinc Citrate; Calcium d-Pantothenate; Colors (Annatto, Black Carrot and Turmeric); Natural Flavors; Folate; Cholecalciferol; Pyridoxine HCI; Potassium Iodide; Cyanocobalamin; Choline Bitartrate; Inositol; Fractionated Coconut Oil and Beeswax to Preventing Sticking
Directions Suggested Use: As a dietary supplement, parents may give each child up to two (2) L'il Critters Gummy Vites per day. Instruct child to chew each gummy bear carefully and thoroughly.

Uses The multi-vitamin and mineral formula for kids. Flavors: cherry, strawberry, tropical punch, orange, lemon, white grape flavors. This product contains no wheat (gluten), milk, eggs, peanuts, tree nuts or soy, artificial colors, flavors or preservatives.
---
More from this collection