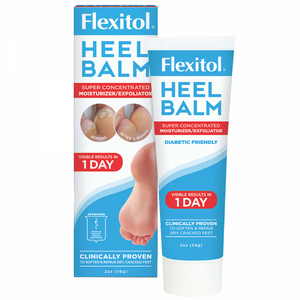 Olympia Plaza Gifts
Flexitol Heel Balm (1 Pack)
Regular price
$8.99
$0.00
Prescribe Flexitol for yourself - it works!

Purpose Foot Care

Manufacturer Eulactol Usa

Active Ingredients Purified Aqua; Urea; Lanolin; Dicocoyl Pentaerythrityl Distearyl Citrate (and) Microcrystalline Wax (and) Glyceryl Oleate (and) Aluminum Stearates (and) Propylene Glycol; Petrolatum; Decyloleate; Propylene Glycol; Dimethicone; Microcrystalline Wax; Triethanolamine; Carbomer; Methylparaben (and) Ethylparaben (and) Butylparaben (and) Propylparaben (and) Isopropylparaben; Fragrance; Citric Acid; BHA; Propyl Gallate

Directions Apply to rough, dry, cracked and thickened skin on feet. Twice daily, morning and night until desired results have been achieved. Thereafter, apply as needed to maintain healthy, beautiful feet. Recommended for adult skin only. Stinging may occur in deep cracks. Discontinue use if local irritation or rash occurs during use.

Uses For rough, dry and cracked feet. For general and diabetic footcare. Made in USA.

Warnings Avoid contact with eyes. Keep out of reach of children. Store between 50 degrees - 86 degrees F. For external use only.
---
More from this collection