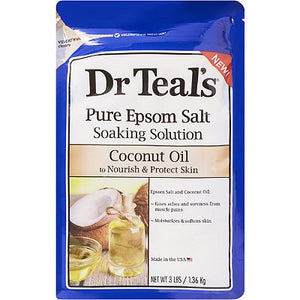 Olympia Plaza Gifts
Dr Teal's Epsom Salt Soaking Solution, Soften & Nourish with Coconut Oil
Regular price
$7.99
$0.00
Dr Teal's Soaking Solutions combines Pure Epsom Salt (Magnesium Sulfate USP) which has long been know to revitalize tired, achy muscles and refresh skin's appearance, with Nourishing Coconut Oil to help provide ultimate skin nutrition. Coconut oil essence creates a blissful soaking experience to sooth the senses and help provide relief from stress.
Soak to nourish and moisturize skin: Pour at least 2 cups of Dr Teal's Coconut Oil Soaking Solution with Pure Epsom Salt under warm, running bath water. Soak for 20 minutes, and let the rich minerals relieve and recharge body & mind. Exfoliate your skin: Mix a handful of Dr Teal's Coconut Oil Soaking Solution with Pure Epsom Salt with a handful of your favorite body wash. Gently massage mixture onto skin to slough away dray patches, revealing a healthier-looking complexion.
Precautions: For External Use Only. Do Not Ingest. CAUTION: Hot or Warm soaks should not be used by individuals with diabetes. Except on advice of a physician. Do not ingest. Use only as directed. Keep out of the reach of children. If irritation occurs discontinue use. Consult a physician if irritation persists. If product enters the eye, wash out thoroughly with plenty of clean water.
Magnesium Sulfate (Epsom Salt) Fragrance (Parfum), Helianthus Annuus (Sunflower) Seed Oil, Coconut Oil.
---
More from this collection