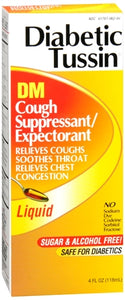 Olympia Plaza Gifts
Diabetic Tussin DM Cough Suppressant/Expectorant 4 Oz
Regular price
$9.99
$0.00
The world's leading provider of products that are specifically formulated for people with diabetes.

Purpose Cough Suppressant, Expectorant

Manufacturer Health Care

Active Ingredients Each 5 mL: Dextromethorphan Hydrobromide 10 mg; Guaifenesin 100 mg

Directions Take every 4 hours. Do not exceed 6 doses in 24 hours. Adults and children 12 years and over: 10 mL (2 teaspoonfuls). Children 6 years to under 12 years: 5 mL (1 teaspoonful). Children 2 years to under 6 years: 2.5 mL (1/2 teaspoonful). Children under 2 years: Ask a doctor. Store at room temperature 20-25 degrees C (68-77 degrees F).

Inactive Ingredients Acesulfame K; Artificial Flavors; Aspartame; Hydroxypropylmethylcellulose; Menthol; Methylparaben; Potassium Sorbate; Purified Water; May Contain Citric Acid to Adjust pH
Uses Temporarily relieves cough; helps loosen phlegm (mucus) and thin bronchial secretions to rid bronchial passageways of bothersome mucus. Safe! Especially for diabetics. 100% sugar free and alcohol free. Also 100% sodium free, dye free, codeine free, sorbitol free, fructose free.

 SUPPLEMENT. DIABETIC TUSSIN DM COUGH SUPRESSANT/EXPECTORANT DOES NOT CONTAIN ANY MEDICATION TO IMPROVE OR RELIEVE ANY EXISTING CONDITION OTHER THAN COUGH AND LACK OF EXPECTORATION. Phenylketonurics: Contains phenylalanine 8.4 mg per teaspoonful (5 mL).
---
More from this collection