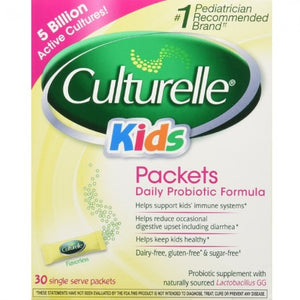 Olympia Plaza Gifts
Culturelle Kids Packets Daily Probiotic Supplement 30 ea (1 Pack)
Regular price
$33.99
$0.00
Helps you feel good.

Purpose Digestive Health

Manufacturer i-Health, Inc.

Active Ingredients One (1) Packet: Lactobacillus GG 1 Billion Cells; Mannitol; Inulin; Silicon Dioxide

Directions Empty entire contents of 1 packet into cool food or drink. Mix until dissolved. Do not add to warm or hot food or beverage. Consult your medical professional for more information. Do not store above room temperature. Refrigeration is not required, but will ensure maximum potency and shelf life. Do not expose to excessive heat, humidity, or direct sunlight.

Uses Kids' immune systems are constantly being challenged - every day at school, at home and even from some of the foods they eat. And kids frequently have digestive issues or 'tummy troubles.' These issues may be due to the fact that they have an imbalance of good vs bad bacteria in their digestive tract where 70% of the immune system resides. One way to help combat your child's health challenges is Culturelle for Kids. Culturelle for Kids contains Lactobacillus GG, the beneficial bacteria recommended by pediatricians and the first dairy-free Lactobacillus GG probiotic. Taking Culturelle on a daily basis will give kids the boost they need to help strengthen their natural defenses against health challenges and occasional digestive upset. Lactobacillus GG is the most studied probiotic in kids and is proven safe and effective for infants as well as children. Unlike yogurts and other probiotic functional foods, Culturelle contains no sucrose or corn syrup, artificial coloring or preservatives. It is completely dairy-free and contains no allergens. When children reach 100 pounds consider switching to the adult Culturelle for the same immune and digestive benefits. Culturelle contains no dairy, artificial dyes, colors, preservatives, flavors, yeast, wheat, gluten, lactose or corn.

Warnings *THIS PRODUCT IS NOT INTENDED TO DIAGNOSE, TREAT, CURE OR PREVENT ANY DISEASE.
---
More from this collection