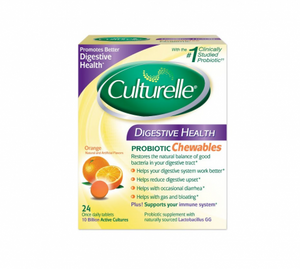 Olympia Plaza Gifts
Culturelle Digestive Health Probiotic Chewable Tablets, Orange 24 ea (1 Pack)
Regular price
$32.99
$0.00
Active Ingredients
1 Tablet: Calories 5; Total Carbohydrates 1 g (Sugar 0 g); Vitamin C 10 mg; Sodium 10 mg; Lactobacillus GG 10 Billion Cells (Guaranteed Potency Through Date on Box When Stored According to Instructions on Package); Inulin (Chicory Root Extract) 200 mg; Xylitol; Mannitol (Corn or Wheat); Glyceryl Behenate; Microcrystalline Cellulose; Sucrose; Maltodextrin; Magnesium Stearate; Sodium Ascorbate; Citric Acid; Natural and Artificial Flavor
Directions
Suggested use for adults and children 4 years of age and older: As a dietary supplement, chew one (1) tablet per day to support digestive and immune health. Continued daily use is suggested. If experiencing digestive upset, two (2) tablets daily are recommended until discomfort subsides. When traveling, chew two (2) tablets daily throughout the trip. Best results if started two to three days prior to travel. Consult your medical professional for more information. Storage: Store in a cool, dry place away from direct sunlight. Must not exceed 75 degrees Fahrenheit.
Uses
Culturelle with probiotic lactobacillus GG, the most clinically studied probiotic, and inulin a prebiotic, naturally replaces the non-beneficial bacteria, returning healthy balance to your intestinal tract.* Take daily to: Help boost digestion and overall health.* Help reduce the likelihood of gas and bloating.* Help support the immune system and general well-being.* Help minimize travel associated stomach and digestive issues.* Safe for everyday, long-term use. Natural and artificial flavors. Contains none of the following: added colors, preservatives, dairy, yeast, gluten or lactose. *These statements have not been evaluated by the Food and Drug Administration. This product is not intended to diagnose, treat, cure or prevent any disease.
Warnings
THIS PRODUCT IS INTENDED FOR USE UNDER ADULT SUPERVISION ONLY. KEEP OUT OF REACH OF CHILDREN. Not intended for children under 3 years of age due to risk of choking. This product should not be used by those with immune problems unless directed by a physician.
---
More from this collection