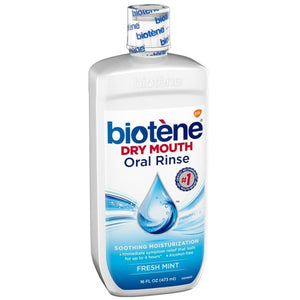 Olympia Plaza Gifts
Biotene Dry Mouth Mouthwash (1 Pack) 16 Fl oz
Regular price
$9.99
$0.00
The leader in dry mouth care.

Purpose Mouthwash

Manufacturer Glaxosmthkln

Active Ingredients Purified Water; Propylene Glycol; Xylitol; Polyglycitol; Poloxamer 407; Hydroxyethyl Cellulose; Sodium Benzoate; Benzoic Acid; Natural Peppermint; Sodium Phosphate; Zinc Gluconate; Calcium Lactate; Aloe Vera; Potassium Thiocyanate; Natural Enzymes: Lactoferrin; Lysozyme; Lactoperoxidase; Glucose Oxidase

Directions Use approximately one tablespoon whenever desired. Swish or gargle thoroughly for 30 seconds and spit out. For best results, use with Biotene Dry Mouth Toothpaste, especially before going to bed.

Uses Imagine a mouthwash with a soothing, gentle feel containing beneficial bio-active enzymes. A mouthwash that cleans and refreshes and helps in the healing of minor irritations. That mouthwash is Biotene. Only Biotene contains four BIO-ACTIVE ENZYMES to boost and restore the defense system found in your saliva. Together, they help provide harmful bacterial protection, naturally. Biotene is specially formulated for individuals experiencing dry mouth or having oral irritations. Contains no saccharin. Naturally sweetened with Xylitol.
Warnings Keep out of reach of children
---
More from this collection